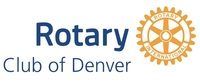 I've been thinking a lot about the aging and disabled population that we have here in Denver and how much a lot of them are struggling at the moment as a result of this social isolation.
While this isolation is necessary to protect each other and our community, there are a lot of people who aren't able to do things like go out to get groceries, pick up their mail, or make sure that they have the right kinds of supplies to weather this storm. On top of that, the people that would normally be able to sit with them to keep them company aren't being allowed in right now, which makes loneliness a significant concern.
These are people who are both members of our club and members of the community at large...
I think we have an opportunity to really make a significant impact on this community, and keep our distance socially, if we organize for some of the following service opportunities.
Grocery delivery
Calls, letters, etc to help fight the inevitable loneliness that I'm sure they're going to be feeling
Picking up mail or packages to be sent out or retrieved
Making sure that urgent supplies are provided for
And, of course, a funding drive to pay for things that they may not be able to afford at the moment
Some people are going to be more comfortable with some of these things than others, and that's ok. But if we have some people who are willing to pick up groceries from the store and drop them off on doorsteps, some people willing to make calls, etc.
We can do something pretty amazing for some pretty vulnerable populations in Denver - inside and out of our club.
Please fill out the survey below to let us know how you would like to serve during this time.
Thank you for your service,
Ian Campbell
---